Manteo real estate is a quaint historic town town on Roanoke Island, North Carolina. The real estate and Manteo homes for sale have ric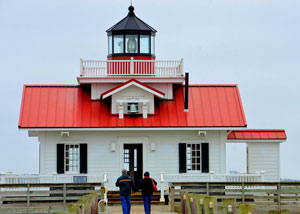 h history dating back to the 1500's.  Most noted is the "Lost Colony" which a small group of English settlers disappeared after only a few years of settlement.  This time in history was capture by the longest running outdoor play in the United States.  It was called the "Lost Colony," and it began its run back in the 1930's.  If you like to fish, and need good ocean access, Pirate's Cove is one of the area's premier planned communities. It's an upscale community of canal front and sound front homes condos. Pirate's Cove is a convenient way to quickly get offshore for that anticipated fishing trip, or a quick drive for a dip in the Atlantic.
Manteo real estate has a very distinct ambiance and different feel when compared to the beach areas.  As a result, Manteo retains is old world feel, and is careful to develop the town in a way that preserves the history of the town. There are many historic properties in the downtown district, with great waterfront shopping/dining and other activities right in town.
MARKET REPORTS:  Corolla - Duck - Southern Shores - Kitty Hawk - Kill Devil Hills - Nags Head - Manteo / Roanoke - Hatteras Island