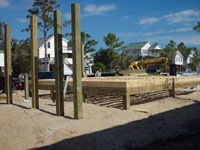 Outer Banks Construction projects are not overly complicated ordeals if you get familiar with the process, set goals, and use the right general contractor / builder. If you are building a rental investment home on vacant land for sale, you can find extensive and objective insights to the building process with Surfside.  Surfside is familiar with the local builders / developers, and have acquired a great deal of knowledge in residential construction. Costs?  It's difficult to answer "how much per square foot?" New construction and developing costs vary on the complexity of the project, workload of the builders, and availability of labor.
Building materials have skyrocketed from pre-pandemic levels, so keep an eye on the cost of lumber.  Your infrastructure requirements, site work required, individual town fees/permits, water taps, level of finish one expects, and the type of floor plan design architects / home designers all have variables that can swing the "price per square foot price."  For instance, a cost over-run of $10,000 on a 2500 sq. home raises the square foot cost by $4 square foot.  As you can see, it only takes a handful of items to toggle the cost per square foot.
Single family building costs can be anywhere between $125-250+ per square foot. The only way to know is to have a complete set of building plans. Design a house plan that works on an available vacant lot (home-site). Then get an idea of your desired interior, exterior, and landscape finish.  A Surfside agent can put these scenarios together easily, just call 252-599-2300.
WHERE TO START?
If you're considering Outer Banks Construction path, we would recommend starting a dialogue with a Surfside Realtor building consultant.   We can sort through the basic mechanics with you first and match your expectations and financial goals. We will be able to find you a viable piece of land, and then maximize the value of that lot with a new home. You don't want to under build, and you certainly do not want to overbuild. Knowing you have the right floor / house plans and specifications already in place, provides you with more accurate pricing when it comes to construction projects.
Newer Oceanfront Homes  |  Newer Sound front Homes  |  Newer Canal front Homes
New Construction Homes