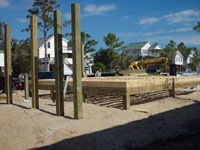 Outer Banks Construction projects are not overly complicated ordeals if you get familiar with the process, and use the right general contractor. If you building an investment home on a vacant lot, you can find an extensive and objective understanding of the building process.  Surfside is familiar with the local builders / developers.  We have acquired a great deal of knowledge in residential construction. Costs? It's difficult to answer "how much per square foot?" New construction and developing costs vary on the complexity of the home or project. For instance, infrastructure requirements,  site work required, individual town fees/permits, water taps, level of finish one expects, and the type of floor plan design architects / home designers come up with.
Single family building costs can be anywhere between $100-200+ per square foot. The only way to know is to design a house plan that works on an available vacant lot (home-site). Then get an idea of your desired interior, exterior, and landscape finish.  A Surfside agent can put these scenarios together easily, just call 252-599-2300.
Where to Start:
If you're considering Outer Banks Construction path, we would recommend starting a dialogue with RE/MAX Surfside.   We can sort through the basic mechanics with you. We will be able to find you a viable piece of land, and then maximize the value of that lot with a new home. You don't want to under build, and you certainly do not want to overbuild. Knowing you have the right floor / house plans and specifications already in place, provides you with more accurate pricing when it comes to construction projects.
OUTER BANKS CONSTRUCTION COSTS – Here is an example of the various construction costs budget spreadsheet, and the items you will see in a typical building contract. Get a detailed breakdown in your building contract so you are aware of where your money is going. Also make sure you have clear specifications so you know the quality of materials that will go into your new construction home.
Check out the specifications sheet. Look at the different line items you and your builder should know prior to getting pricing on a new construction home. If you were to add or subtract a few thousand dollars from each budget line, something happens.  You realize a wildly changing per square foot price as you divided the total cost by the square footage of a home. Call Surfside today for a casual chat on Outer Banks Construction and developing. We're easy to talk to! 252-599-2300.
Corolla - Duck - Southern Shores - Kitty Hawk - Kill Devil Hills - Nags Head - Manteo / Roanoke - Hatteras Island
Newer Oceanfront Homes  |  Newer Sound front Homes  |  Newer Canal front Homes
New Construction Homes