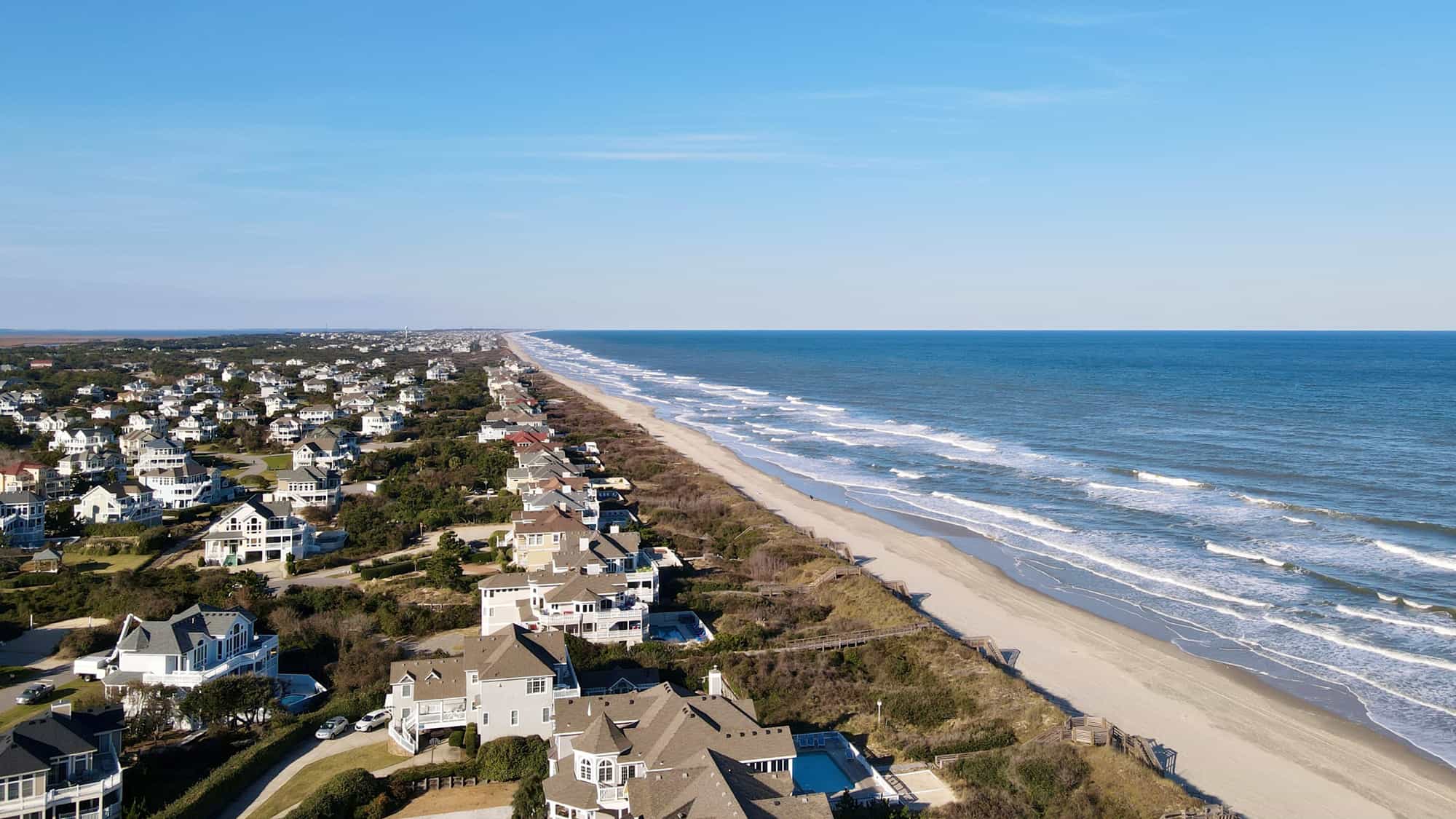 The Outer Banks, or "OBX" to many, is a coastal area on a 200-mile chain of barrier islands Outer Banks real estate off the North Carolina coast. Situated in Dare County and Currituck County, OBX is a renowned East coast summer destination with over 100 miles of pristine Outer Banks realty shoreline.
But it's also a wonderful place to live year-round, being home to a population of over 35,000 spread across numerous small towns, namely the Northern Beaches of Corolla, Duck, Southern Shores.  Kitty Hawk, Kill Devil Hills, Nags Head in the Middle Beaches.  As you move south, Rodanthe, Waves, Salvo, Avon, Buxton, Frisco, and Hatteras Village make up Hatteras Island.
Of course, Outer Banks realty offers a fantastic selection and diversity of homes just waiting to be discovered. Check out how OBX Search can help you find your dream home, and start using our exclusive search.  But remember, only Surfside Realty has it!
What is Surfside's "Super MLS" for Outer Banks Realty?
Surfside's Super MLS is a new and exclusive way of finding homes for sale in the Outer Banks.  It's a true exclusive!  A unique feature of the Surfside Outer Banks website, this search platform makes use of data services from Internet Data Exchange (IDX), and codes it beyond the big search portals limited capabilities.  An IDX is a third-party service that provides expansive search capabilities for real estate sites.  It's only as good as the IDX is developed, so not all IDX websites are the same. Not even close!
IDX integration makes it easier for site visitors to search the Multiple Search Listings (MLS) database in any given area.  It's nothing new the Surfside Realty's MLS search is known to provide access to the most comprehensive selection of available properties in a particular Outer Banks geographical area, city, subdivision, cash flow, or waterfront. But "how" and "what" data is used is a whole different story.
Super MLS takes it a step further by offering more filters to pinpoint listings that match buyers preferences. From something as general as the number of rooms down to the cash flow, the platform enables buyers to pinpoint Outer Banks listings that fit a unique and hyper-specific set of criteria.
In today's market, OBX Search comes at a time when inventory levels are expected to rise in Hatteras Island as mortgage interests rise and more buyers stay on the sidelines. The Outer Banks real estate market has also seen two years of notable double-digit year-to-date sales increases in Kill Devil Hills, Colington, Nags Head, and the aforementioned Hatteras Island. Buyers who want to enter the market this year or next can take advantage of rising inventory and sort through their options with OBX Search.
How OBX Search fits with your way of searching Outer Banks Real Estate
According to a survey by the National Association of Realtors (NAR), 41% of buyers start the home search online with 95% using online tools during the process. This search process usually takes eight weeks with buyers looking at eight properties on average and viewing three of these properties primarily online.
Moreover, today's Outer Banks buyer has more access to information than ever before. From the MLS, to live house tours on social media, it's fairly easy to compare properties and home prices in a few clicks. But the sheer volume of information out there can muddle the search. Likewise, not all sources are reliable or complete in the data you see on the Super MLS.  At times, some platforms lack features needed to generate relevant and timely results.  Can't search by waterfront location, whaa??!!
This makes it imperative for agents and sellers to make sure that they have a viable online platform to promote listings. Moreover, an increasingly digital environment, agents need to capture buyers' attention by creating a seamless and reliable search experience using accurate data and user-friendly platforms.  We possess the best of camera, drone, and 360 equipment on the market and employ these tools to provide potential buyers the best perspective of the client's home for sale.
This is where Super MLS comes in. Obviously, this platform elevates the search experience with advanced filters, relevant data, and personalized results. It streamlines the search process and generates the finest listings in the Outer Banks. Whether you're trying to shorten the search process or cutting through swaths of real estate data to find accurate information, this search platform will help you do that.
If you're exploring Outer Banks real estate, there are many ways to use OBX Search depending on your goals and needs:
For instance, you can look for available properties based on address, MLS number, or by GPS location on your smartphone. This feature gives you a visual reference of the Outer Banks realty housing market and lets you pinpoint where a specific property is located on the map. This feature is particularly useful for buyers who aren't that familiar with the layout of the communities in the Outer Banks.  Ideal for those who are looking for homes along the coastline.
It also provides you with information on home prices for each listing. In turn, giving you a rough idea of how much homes are generally worth in a particular area. This creates a sense of place while allowing you to make a quick price comparison for a given area.
Clicking on a pinpoint on the map shows a thumbnail image of the property as well as some quick information on price, square footage, number of bedrooms, and more without redirecting you to another page.  This lets you take stock of all the available listings on the map without having to go back and forth between the search page and the listing page.
Input an address:
If you want to find a new home in a specific neighborhood or stretch of road, you can search for properties by address or even partial address. Just type the house number and street name into the search bar and explore the results. The results page will turn up the relevant listing on a map as well as the listing page where you can gather pertinent information on price, square footage, real estate photos, and more.
Explore the Active Hotsheet:
Now go discover the latest listings in the Outer Banks sort by newest listings sorted first. If your search is more time-sensitive, you can find the most recently listed properties on the OBX MLS through the Active Property Hotsheet.  If a user savers this search then they will be notified of new listings.  Its easy to delete and create new searches based on your particular search. This turns up active Outer Banks realty listings for homes that have just been put on the market, and emails them to you. This feature is especially useful if you want to avoid old or stale listings.
Use a wide range of filters for hyper-specific search – not offered by the big portals:
Status (active, pending, or sold)
Property type (residential, commercial, or land/lot)
City
OBX Area
Minimum price
Maximum price
Waterfront
Subdivision
Rent ratio
Year built
Number of beds
Number of baths
Minimum living space
Maximum living space
Minimum lot square footage
Maximum lot square footage
Flood zone
H20 frontage
Home style
Amenities
Rental Performance
Garage
Builder
First floor master bedroom
Pool
Hot tub
Elevator
Numbers of days on the MLS
Price drop
Foreclosed
Financing
Cottage
List remarks
Listing from
Listing to
Pending from
Pending to
Sold from
Sold to
Rental company
Using any combination of these filters will help you generate personalized search results that match a unique combination of requirements.
Using Outer Banks Super MLS compared to other real estate sites:
Super MLS makes the search process faster and more convenient for buyers; by far! It provides access to comprehensive Outer Banks real estate data by way of the Surfside Super MLS so buyers can leave no stone unturned. Laser focused searches, and it also organizes large amounts of real estate data to help buyers find suitable properties based on various criteria and preferences. It turns up only the most relevant results depending on the filters and search method used. The experience isn't the same with other real estate sites, particularly sites that don't have advanced IDX integration or company coded search features.
The benefit of creating an account with Surfside Realty:
Get Surfside file-vault access and advanced listings data when you create an account with Surfside Outer Banks.  Having an account lets you take full advantage of the OBX Search and its features to simplify the search process. This helps you save time and energy as well as avoid frustration with irrelevant results. Signing up for an account also lets you receive notifications for new listings, AND MUCH MORE!
How to search for Outer Banks real estate:
Still thinking of the best way to search for Outer Banks homes for sale? Here are some suggestions to get you started:
Search online – The internet is one of the best places to start your home search. Ease and convenience of the online search are the obvious reasons. According to NAR, real estate-related Google searches increased by 253% from 2009 to 2013 with tech-savvy buyers using the internet to look at real estate photos, join live house tours, and compare prices. OBX Search presents a more efficient way of sorting through a large number of listings throughout the Outer Banks.
Filter your selection – Filter your online search based on various criteria, such as waterfront location, price, property type, cash flow, prices, and listing status. Sophisticated real estate platforms like Super MLS enable you to use additional filters for hyper-specific search results.
Set up search alerts – The property you're looking for may not be available right now but it might enter the market in the near future. That's why signing up for search alerts and notifications is crucial to finding recent listings that match your requirements.  Perform a search and save the results.  That's it for email notifications:)
This brings the latest relevant listings to your attention so that a Surfsider can be one of the first potential buyers to contact the seller's representative.  You may even set an appointment for a home viewing.
Visit neighborhoods – While searching Outer Banks realty online is a quick way of starting the search process, there's no substitute for making an actual visit to the neighborhoods where you'd like to potentially relocate. Of course, this helps you get a feel for the neighborhood and explore the surrounding area.  Set up you obligation-free showing tour with only top-bin real estate processionals.  No dud agents here!
The Outer Banks is home to many desirable neighborhoods, including:
Corolla Real Estate
Duck Real Estate
Southern Shores Real Estate
Kitty Hawk Real Estate
Kill Devil Hills Real Estate
Nags Head Real Estate
Manteo / Roanoke Island Real Estate
You can reach out to Surfside Realty for more information on Outer Banks real estate.
Making offers on Outer Banks property:
Once you find a property that suits your preferences, you need to be ready to act quickly and decisively.  Getting the nitty gritty info of a home, neighborhood, HOA takes quality local insight.  Securing financing will be the next step, but make sure you're prequalified to make an offer. To make sure you're prepared to proceed with a home purchase, here are some tips to get you started:
Get your finances ready:

If you're applying for a mortgage, you need to gather financial documentation and talk to several lenders in the Outer Banks area.
Check your credit score – Having a healthy credit score is one of the main requirements for loan application. You can request a credit report from a credible agency. If your credit score is low, you can build it up by paying off debts and making payments in a timely manner.
Understand your financial profile – Get in touch with your accountant or financial advisor to get a clear picture of your financial profile as a homebuyer.
Get prequalified –

Getting prequalified for a mortgage gives you a rough idea of how much home you can afford. It also shows the seller that you're likely to get approved for a mortgage.
Consider what kind of loan you want to apply for:

There are several mortgage products with varying terms and conditions in the market. Buyers typically apply for conventional loans when looking into starter homes and midrange properties. Those who want to purchase luxury or waterfront properties that command higher prices can look into jumbo loans, which exceed conventional loan limits.
Hire only seasoned and ethically minded real estate agents:

Is this your first or second investment property?  Working with a local real estate expert will help you navigate the search and buying process with ease. An experienced agent will provide access to exclusive listings in the Outer Banks as well as protect your interests during negotiations.
Make a compelling offer:

Once you find a home that suits your needs, you must make a strong offer to secure the property. Making a compelling offer is particularly important in situations where there are several interested buyers in a home; as the market we are in now.  An experienced Outer Banks Realtor will help you craft a strong offer as well as determine the best strategy for securing the property.
Plan for closing cost:

Closing costs typically cover title searches, title insurance, appraisal fees, property taxes, and other fees pertinent to the sale. Make sure you plan ahead for these expenses before making an offer on a home.  Ask about our detailed financial worksheets for buying and selling property.  "Its in there!"
Searches and transactions facilitated by Super MLS
Of course, numerous buyers and sellers have utilized OBX Search to facilitate successful real estate transactions in the Outer Banks. From vacant lots priced at $50,000 to luxury homes worth over $2 million, the platform has helped clients find or list properties using advanced filters and methods. Click here to view pending or sold listings in the Outer Banks.
Why choose Surfside Realty as your trusted real estate partner
If you're ready to explore Outer Banks real estate using advanced search, contact Surfside Realty at 252.599.2300. You can also reach them via email. The company's Realtors have more than 20 years of professional experience, and provide the highest level of expertise and ethics the Outer Banks offers.
Guided by the values of transparency, ethics, and availability, the Surfside realty goes beyond big search and real estate brands to deliver a seamless search experiences. They also have the highest productivity per agent of any firm in the Outer Banks.
Finally, with knowledge of Outer Banks investment properties, their agents can help you evaluate the financial viability of a given property.  This includes rentability, insurance costs, and flood risks. Call them today for inquiries.
Listing Your Outer Banks Property on the MLS?
Get your Outer Banks home on the market today!